Services range from component repairs to complete cylinder, pump, and valve restorations, including exchange services.
We specialize in the repair and manufacturing of hydraulic cylinders & components. We also offer expedited services, pick up and delivery, and unrivaled customer service. We pride ourselves in our commitment to the Customers that we serve. Our customers are why we started in this industry and why we still continue strong today.
FOR US FULL SERVICE MEANS GIVING EVERYTHING
In a production area, we use modern machinery to repair and overhaul hydraulic cylinders. We are able to provide full service on this basis, and this extends beyond our factory gates because our service technicians are also in action for you directly onsite.
PROBLEM ANALYSIS
We analyze your problem and develop solution proposals that are optimally adapted to your local conditions:
Fixing of leaks thanks to optimized sealing concepts
Weak point analysis with optimization of function and material.
Proposals for the conversion of hydraulic cylinders to adapt to changing or new conditions of use.
DISMANTLING AND INSTALLATION
We dismantle your repair cylinders and create a detailed report of findings, as well as a repair proposal with a fixed delivery schedule and description of the scope of work.
After installation, your repaired cylinders are pressure and function tested. We generate a test protocol for each cylinder.
We SPECIALIZE IN Hydraulic Fittings, Hoses, Motors, Valves, Cylinders, Pumps, Power Units, and Equipment & Heavy Machinery
TMS commissioned its Hard Chrome Plating facility in 2014, along with finishing and polishing capabilities, which is one of the largest in Texas. Our multiple tanks can handle any length you may have and are temperature controlled to give an unrivaled quality of Hard Chrome required in industry heavy workload environments.
TMS has undergone extensive auditing by several OEM's to ensure that our Hard Chroming operations meets and exceeds the OEM requirements. A large investment has been made in the necessary measuring technology (Roughness tester, Hardness tester, Chrome thickness tester) to enable TMS to meet international chroming standards.
TMS Hard chrome tanks are fully automated, temperature-controlled, systems in place with heating elements and a cooling tower, to ensure optimum plating is being carried out at the facility. Any deviation from the strict operating conditions will set off control alarms to enable the plating staff to rectify the cause of the issue immediately.
TMS has strict procedures in our chroming, and clients can be assured that their chroming will be at the highest quality achievable at a world-class facility.
Repairing HYDRAULIC COMPONENTS
We repair HYDRAULIC COMPONENTS for the following equipment & machinery-
Heavy Equipment


Cat, John Deer, Kubota, Pettibone, P & H, Case, Cb, Kobelco, Liebherr, Terex, Linkbelt, Groove.
Materials Handling


Hyster, Cat, Yale, Clark, Tcm, Toyota, Taylor, Kalmar, Case, I-R, Skytrak.
Our commitment to quality control never ends. To ensure that all our work is performed to your requirements. Each cylinder is tested to meet your specifications prior to it leaving our facility.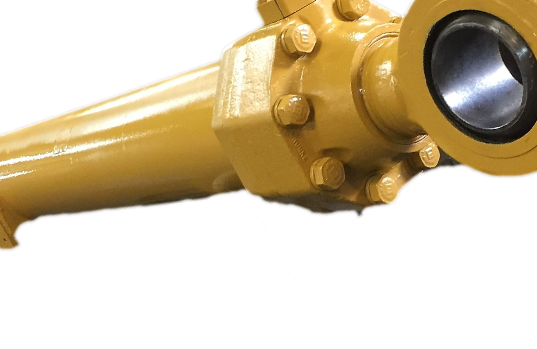 REPAIR AND OVERHAUL
After dismantling, all individual parts are tested and, where necessary, reworked or replaced. Grooved cylinder bores are honed. Grooved or damaged piston rods are polished and recoated if necessary.
We supply the following coatings:
Single or multiple coats hard chrome
Single or multiple coats soft/hard
Chrome
Fused bonding
Ceramic
Individual parts are manufactured new according to sample or drawing. Seals are also renewed according to the sample or parts list.
Welding tasks (MAG, WIG, E-Hand) are performed exclusively by experienced professional welders.
TESTING
Every cylinder is tested before despatch:
Pressure testing
Function testing
Measurement of surface characteristics and coating thickness of the piston rod
Colour penetration testing of welded seams
The documentation consists of an archived test protocol for each cylinder. You therefore always have the security of proven quality.
ONSITE SERVICE
Our service technicians are in action for you all the time and all around the world. As far as possible, they perform repairs, analyze your cylinder problem, or perform monitoring functions during extensive renovation projects.
Hydraulic Pumps, Valves & Motors
TMS understands the importance of hydraulic motors and pump components in your equipment reliability. Our team of certified technicians follows a rigorous process when it comes to repairing hydraulic motors and pumps:
TMS has also manufactured a hydraulic motor test bench capable of testing hydraulic motors under load in both directions of travel to ensure repair quality meets all OEM/OPM specifications.
All our custom-built computerized test benches show multiple flow, pressure, speed, and temperature for pump quality certification. All pumps are tested at OEM recommended RPM to ensure efficiencies are within OEM tolerances. With this, LGH is well equipped to ensure the best and latest technology is available to all our clientele.
All pumps that come into the workshop are stripped, cleaned, and inspected to establish the cause of failure. A full failure analysis report with photos of damaged components is done for each pump detailing the cause of failure, breakdown of parts required, and the lead time on the repair along with the costs are all sent to the client.
Upon completion of the repair, a digital test report will be supplied. The test bench performs and reports the testing procedure and can therefore not be manipulated to ensure that human error is removed from the testing procedure.
This will ensure that every repair performed will be to the highest quality standard and will therefore ensure the optimal performance and lifespan of all repaired components. Specialized tooling has been imported to ensure the correct assembly procedures are followed and pumps/motors are rebuilt to the highest quality standard.
THE REPAIR PROCESS
We start by fully disassembling the hydraulic pump so we can see each part to try to visually identify what is causing the problem. Once we find what is creating the issue, we will repair it if possible. If not, we'll replace it with a new OEM part. We will then reassemble the pump and test it to make sure it is operating according to the original specifications.
We will replace any worn-out parts with new ones so that when you get your hydraulic pump back, it will be like new. In addition to our promise that you will get back a fully functioning hydraulic pump, you will also appreciate that we have competitive prices when it comes to hydraulic pump repair.